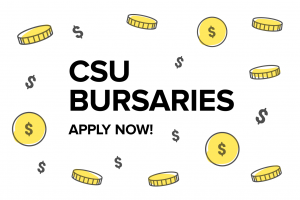 The CSU awards 10 bursaries valued at $300 each academic year to Loyola based students.

These bursaries are aimed at supporting Loyola-based Concordia undergraduate students who require finical assistance. The goal is to help students with demonstrated financial need alleviate some of the pressures associated with the high costs of post- secondary education and to recognize their achievements whether academic or extracurricular.
In awarding these bursaries, the CSU takes a holistic approach and considers each applicant's finical need, academic achievements, extra-curricular activities, and statement of merit. Every reasonable attempt will be made to award bursaries on the basis of gender equity.

DEADLINE
The deadline for bursaries is Wednesday, March 15th at 11:59 PM
Eligibility requirements
Undergraduate students who have completed at least three credits at Concordia University are eligible to apply for CSU bursaries. Please note that Councillors, CSU Executives, members of the CSU's Judicial Board, employees of the CSU, and the Chair and Secretary of the CSU Council of Representatives are ineligible to receive these bursaries.